We have everything you need for your Freshwater Setup
Hi-tech, low-tech, NO-tech–we've got you covered.  Here are just a few highlights from our selection.
Seasoned Saltwater expert or just getting started?
We have everything from ultra-pure de-ionized water to live rock to sexy shrimp.  Here are a few highlights.
Steve and the crew, as usual, were extremely friendly, helpful and knowledgeable. Fantastic selection of fish for any type of aquarium, especially nano fish and species not often seen in stores!
Healthiest aquariums I have ever seen. Fabulous help.
judy essman
May 21, 2021.
The selection of fish is incredible and they are always healthy.
spinnekop7663
May 8, 2021.
A professionally run and friendly environment makes this one of the best aquarium shops in the area. Fish are very well maintained, as is the store itself. Knowledgeable and friendly staff. Great selection of fresh and saltwater fish.
Francisco Ramirez
April 15, 2021.
Nice shop, friendly staff.
duung1688
March 17, 2021.
See What Our Customers
Have to Say About Us
I've been holding off on this review because I was afraid I wouldn't be able to do the place justice, I'm kind of an aquarium novice. Fish Planet is such a great little shop - full of hard-working knowledgeable friendly employees, and full of beautiful, colorful fish and the sound of clear rushing water. No undernourished fish, not even any lackadaisical or bored fish, no dirty tanks, not even any empty tanks or empty shelves. These are fish people. Who know how to take care of fish and tanks and systems. I know, because I've talked to them multiple times about my tank and my fish. And they know their stuff. These are lifetime fish enthusiasts. While Fish Planet is a relatively small place they a full stock of fish and supplies. It's not cramped or messy. And they have a few large tanks that are absolutely mesmerizing. My favorite is - if you park in the back parking lot, and enter through the rear door - right when you walk in, on the right, is a massive tank full of huge decorative goldfish, just doing their thing. I feel like I could just watch them for hours.
I love this place! Everyone is so friendly and knowledgable about fish and maintaining a tank. Everytime I go in there I'm like a kid in a candy store. Can't help but to grab something. There's a young man who works there and he took time to  teach my kids about the different fish. Great place to grab your gilled pets and products!
This is THE best fish store I have ever seen.  The most impressive part of the store is when you first enter.  It is gorgeous, almost a place to visit with your kids to see and learn about both common and rare fresh and salt water fish, plants and coral.  The owner, Steve, is so knowledgeable and caring, and loves to educate.  I have never seen cleaner tanks and fish that are so happy, active, social and healthy.  If you are buying fish, you want them to come from Fish Planet.  If you are just curious, you will enjoy a visit to learn more and see some pretty incredibly beautiful fish.  If you have kids, it is worth a visit on a cold or rainy day just to ignite their passion and education.  I have never seen a store like this, managed by such a caring owner who takes such pride is everything fish.  Stop by, you will wonder why you haven't been there before!
Mike C.
November 10, 2019.
This place is amaizing...The owner and his associates are allways friendly with a really good attitude, they listen to all my questions and the store is so well put together...I bought some OB peacocks and 9 clown loach  from them all healthy and at really good price....This is my new spot to buy my fish....Thank you Fish Planet....You guys are amazing....
Bought gold fishes from this place for three times. Price is fair. I have shopped several fish places in Skokie, old town and Chinatown. This place is the best. Gold fishes are healthy although not the fanciest.  Also bought blood worm and plants. No issues so far
Martin P.
December 1, 2018.
I had a great experience at this store. I am a first-time fish tank person. I bought a filter for a my 10 gallon tank and took it home to install it. I ran into 2 problems installing. Both times, I called the store and they patiently listened, asked questions, and helped me diagnose what was going on. Would never get this type of service from a big-box pet store! I'll go back for my fish needs!
Sarah P.
November 4, 2018.

As Seen on Prime Time Aquatics!
Want to learn how to set up your first tank?
Check out our Getting Started section to learn tank basics.
Come see us in person
We are happy to help you find the right fish, plants, and other livestock for your aquariums.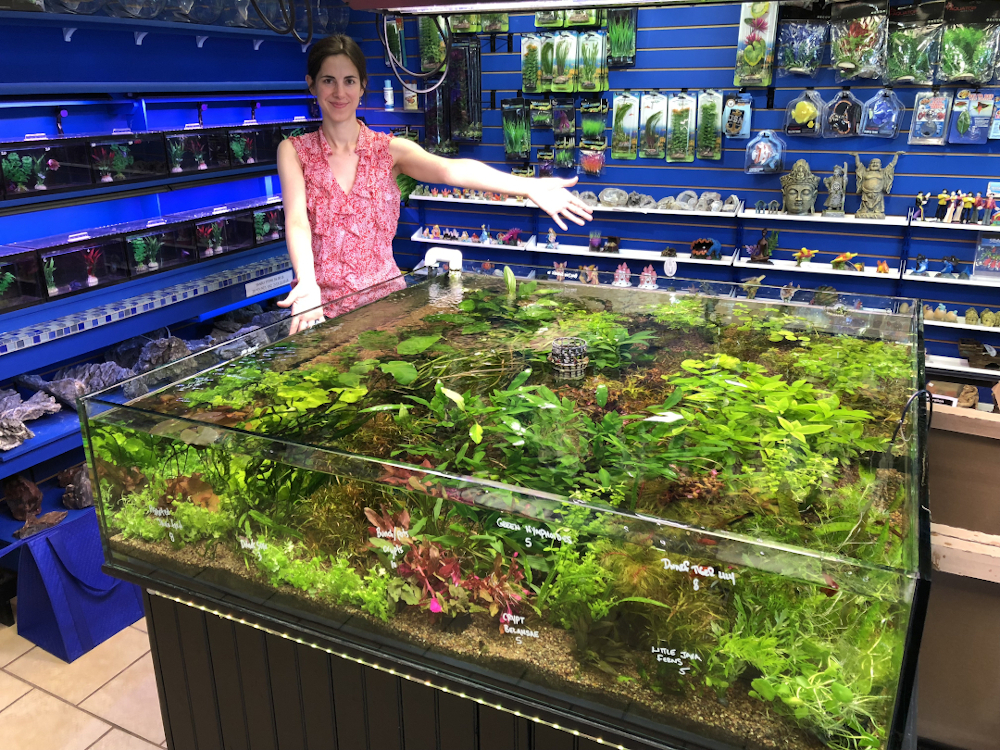 Hours
Mon.-Fri. 12pm-6pm
Saturday 10am-5pm
Sunday    12pm-4pm